Prayer for a Broken Relationship: Relationships among humans is a blending of two or m with lots of differences who have decided to live together in harmony. And whenever their individual differences begin to surface, there is bound to be misunderstanding once in a while. But when this happens, maturity, forgiveness, and prayer can cause reconciliation.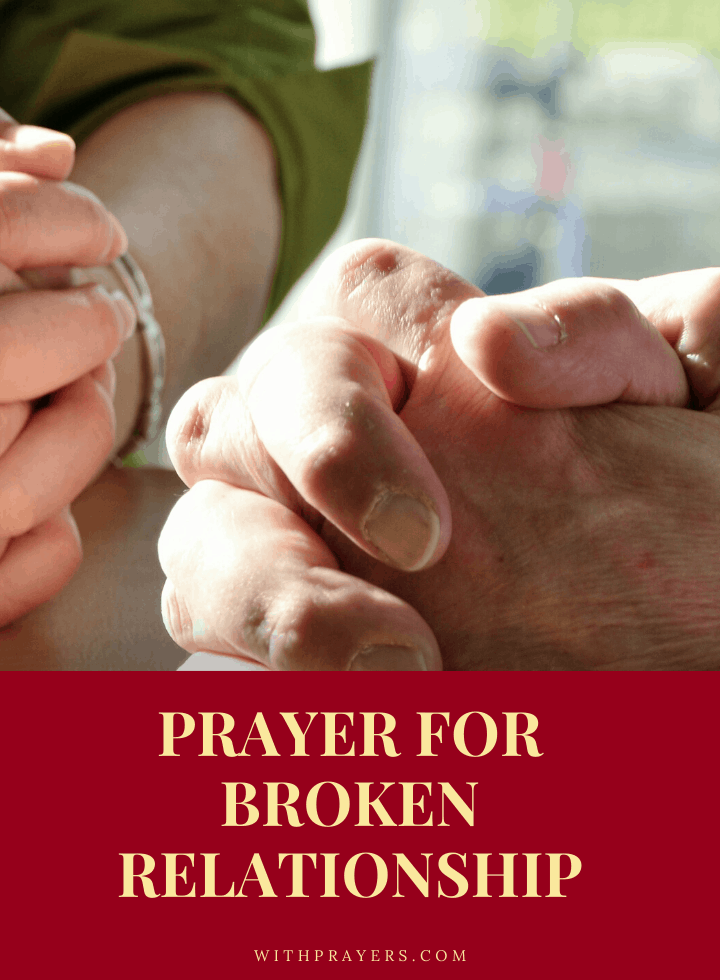 [su_note note_color="#725306″ text_color="#ffffff"]
"Brethren, be not children in understanding: howbeit in malice be ye children, but in understanding be men"
(
1 Corinthians14:20
).[/su_note]
Causes of Broken Relationships:
There are several reasons why relationships break up, but here are a few of them:
Misunderstanding
Temperamental differences
Misinterpretation of intentions
Unforgiveness
Jealousy
Greed
Third parties interference; etc.
No matter the cause of the broken relationship, believe that the lord is able to fix it and put thigs together in place again. Just open up your heart and release your faith. Our God is able.
PRAYER FOR A BROKEN RELATIONSHIP
Thanksgiving:
Father, thank for the gift of relationships, thank you for the chance to amend failures. Be glorified in Jesus' name.
Forgiveness:
Father, please forgive everything that led to the breakage of my relationships in Jesus' name. Forgive everyone who is involved in making it break up in Jesus' name. Help us to forgive ourselves and forgive each other wholeheartedly in Jesus' name.
[su_note note_color="#008080″ text_color="#ffffff"]
"And forgive us our sins; for we also forgive every one that is indebted to us. And lead us not into temptation, but deliver us from evil"
(
Luke 11:4
).[/su_note]
Reconciliation:
Father, give every one of us the heart for reconciliation of our relationship in Jesus' name. Work out the possibility of a stress-free reconciliation between us in Jesus' name. As You have through the life of Your Son worked a reconciliation between sinful man and You, let both the offender and offended among us come back together in Jesus' name.
[su_note note_color="#092a49″ text_color="#ffffff"]"And all things are of God, who hath reconciled us to himself by Jesus Christ, and hath given to us the ministry of reconciliation" (
2 Corinthians 5:18
).[/su_note]
A More Productive Post-Reconciliation Relationship:
Father, let our relationship after reconciliation be better than it was before it was severed in Jesus' name.
[su_note note_color="#3d3034″ text_color="#ffffff"]"And the Lord turned the captivity of Job, when he prayed for his friends: also the Lord gave Job twice as much as he had before" (
Job 42:10
).[/su_note]
Appreciation:
Thank You, Father, for answered prayers. In Jesus' name, I have prayed. Amen!
SUGGESTED BIBLE VERSES