Christian fasting: Fasting is a powerful discipline for anyone, spiritual or not. If you want to learn about the Christian fasting tradition, this article will give you an in-depth guide to the "why" and "how" of Christian Fasting.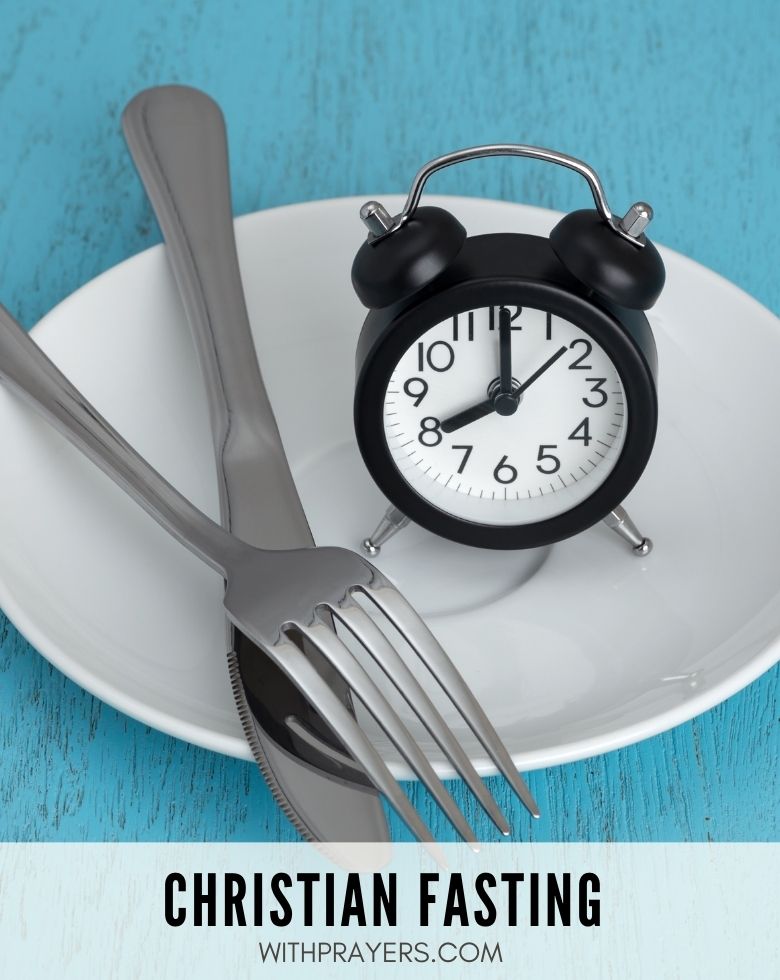 Christian fast
Fasting is an act of self-denial. It is denying oneself food, drink, or any other thing that gives physical pleasure as a way for the body to focus on spiritual matters. It is a tool that Christians can use to combat the flesh and grow closer to God so as to get empowered in your Christian walk!
What is a Christian fast?
Christian fasting is a spiritual practice in which participants refrain from consuming food, drinking liquids, and smoking, including abstinence from material possessions or engaging in sexual activity for a short period of time. Fasting is often undertaken as a way to grow closer to God.
Christian fasting is about more than just abstaining from food. It's about abstaining from sin and not indulging in the things that can get in the way of your connection with God.
It is a holistic approach to living your faith in Jesus Christ. The whole point of fasting is that it helps free our minds from worldly distractions and refocus on God in prayer.
What Christian fasting is not
Fasting is not a way to punish our body and make it suffer. Instead, fasting can be a form of prayer that asks God for something specific.
Fasting is not a tool to manipulate God. For example, David in 2 Samuel 12:13-23 fasted and prayed that his son should not die, but God did not honor the fast and prayer. By fasting and praying, you are confident that God hears and answers your prayers. Like I always tell my kids, the answer may be "yes," immediately "wait" for the right time, or "no" if God has something else in mind. Zechariah 4:6. Not by power or by might, but by the Spirit of the Lord.
Fasting isn't just abstaining from food or water but also from any sin or worldly pleasure that keeps us away from God.
What an actual Christian fast is all about
The book of Isaiah 58:3-10 talks about true fasting. Let's read through these 8 verses for an ancient perspective on fasting:
3 'Why have we fasted,' they say, 'and you have not seen it? Why have we humbled ourselves, and you have not noticed?' "Yet on the day of your fasting, you do as you please and exploit all your workers.
4 Your fasting ends in quarreling and strife, and in striking each other with wicked fists. You cannot fast as you do today and expect your voice to be heard on high.
5 Is this the kind of fast I have chosen, only a day for people to humble themselves? Is it only for bowing one's head like a reed and for lying in sackcloth and ashes? Is that what you call a fast, a day acceptable to the Lord?
6 "Is not this the kind of fasting I have chosen: to loose the chains of injustice and untie the cords of the yoke, to set the oppressed free and break every yoke?
7 Is it not to share your food with the hungry and to provide the poor wanderer with shelter—when you see the naked, to clothe them, and not to turn away from your own flesh and blood?
8 Then your light will break forth like the dawn, and your healing will quickly appear; then your righteousness[a] will go before you, and the glory of the Lord will be your rear guard.
9 Then you will call, and the Lord will answer; you will cry for help, and he will say: Here am I. "If you do away with the yoke of oppression, with the pointing finger and malicious talk,
10 and if you spend yourselves in behalf of the hungry and satisfy the needs of the oppressed, then your light will rise in the darkness, and your night will become like the noonday.
Why do/should Christians fast?
What is the purpose of Christian fasting? Although fasting is a practice in the Bible (Acts 13:2; 14:23), Christians are not commanded to fast in scripture. God does not mandate it. Nevertheless, listen to what Jesus said in Matthew 9:14-15
"Then the disciples of John *came to Him, asking, "Why do we and the Pharisees fast, but Your disciples do not fast?" And Jesus said to them, "The attendants of the bridegroom cannot mourn as long as the bridegroom is with them, can they? But the days will come when the bridegroom is taken away from them, and then they will fast.
From this scripture, we can see that there will be a point or several in our lives when we will need to fast.
There are many reasons for fasting, but all true fasts have their purpose. Fasting is not some kind of religious ritual that you can do just for the sake of doing it. Instead, it has a significant purpose:
To prepare for spiritual battle – Isaiah 58:6-7
To ask for forgiveness of sins: A fast can also be an act of penance when done as an outward expression of remorse for personal wrongdoing. It helps us see ourselves as we really are: sinners in need of God's mercy, and motivates us to live a life that is pleasing to Him. Deuteronomy 9:18-19, 1 Kings 21:25-27, Jonah 3:6-9, 1 Samuel 7:6
To achieve an inward spiritual goal. For example, Jesus fasted for forty days and nights before he started his ministry. The goal was to prepare for his ministry. Matthew 4:2 Nehemiah 1:3 – 4
To help with self-control
To get closer to God and experience His grace
Discipline, spiritual growth, and clarity:
To seek God's will Acts 13:2, Ezra 8:23
To intercede Esther 4:16
Protection Ezra 8:21-23
An expression of deep devotion Luke 2:37
To hear God: Exodus 34:28
To gain greater knowledge of the will of God.
Spiritual cleansing
To regain matery of the flseh: Fasting is an important way of learning to keep the body and spirit in harmony Galatians 5:16
For reflection and to humble yourself before God Psalm 35:13; Ezra 8:21; 1 Kings 21:27 – 29)
And so much more!
Some biblical basis for Christian fasting
Fasting is a spiritual practice that has been present since the beginning of time. The Old Testament stories of Daniel and his companions during their captivity in Babylon told how they abstained from eating food for weeks at a time.
One of the biblical bases of fasting is found in the Old Testament book of Daniel. The prophet Daniel was going to be put to death for refusing to worship the false gods and idols of the Babylonians. He prayed and fasted, asked God for mercy, and, in His mercy, God preserved him from certain death.
Another biblical basis for Christian fast is found in Isaiah 58, which instructs Christians to fast from sin and seek God's face. Many Christian denominations have historically observed the Biblical practice of fasting in one form or another. However, fasting from food and drink is not practiced by many Christians today.
A very interesting one was when the disciples wanted to cast out a stubborn demon, and Jesus answered and said, "This kind does not go out except by prayer and fasting" Matthew 17:21
What are the benefits of fasting?
Health Benefits
Fasting is often recommended as a means of losing weight, reducing cholesterol, and improving overall health. But it also offers other health benefits, such as boosting the immune system and decreasing inflammation.
When you fast, your body will start releasing many toxins that are built up in the body. If you don't eat regularly, these toxins could build up and cause serious health problems. Many studies have shown that fasting is an effective way to lose weight and reduce the risk of obesity-related diseases, such as diabetes and heart disease. When done properly, a short period of fasting can improve general health by lowering cholesterol levels and improving insulin sensitivity. Now, these are some of the physical benefits of fasting let's talk about the spiritual benefits.
Spiritual benefits of fasting
The spiritual benefits it offers cannot be overstated.
Fasting is one of the most effective ways to draw closer to God. In fact, it's what was done in many places in the Bible. When we choose not to eat and drink, our bodies naturally produce various hormones that tell our brain that we're in a "state of need." This is an excellent time for prayer and reflection on the needs of those around us.
Fasting has several benefits for both the body and the soul. Here are some:
It creates a greater self-awareness and spiritual growth
Enhanced mental clarity to a deeper sense of purpose in life
Increase in faith and trust in God
Fasting increases our self-discipline and willpower
A deeper understanding of Christ's love for us
It increases our sensitivity to the needs of others
Heightened awareness of God's presence
Fasting allows us to hear from God
It helps to develop a closer relationship between you and God
It helps you focus on the most important things in life.
How do I start a fast?
Although fasting is something that almost anyone can do, starting a fast is not as easy as it may seem. It requires an understanding of how your body works.
There is a need to prepare both physically and spiritually. While fasting, you will feel hungry and uncomfortable at times, but this is normal, and there are ways to help with these feelings:
Start small: It is best to prepare your body few days to your fast by eating light and staying away from greasy and sugary food.
Have a purpose – don't just go into fasting without an aim. You need to set your objectives. I have listed a few reasons why christians fast above.
Fast and pray with sincerity – Fasting is not a "show off" Matthew 6:16-18
Create time for prayers and study of the word – since this is a spirituall fast, it is importnt to have enough time to speak to God and hear him concerning the matter you are waiting on him for. So be sure to pray and study the word.
Don't break with a feast – Since your stomach will still be adjusting
Be expectant – Hebrews 11:6
Stay hydrated– It is not good to get dehydrated during fast so be sure to take in as much water as you can. It will also help with the hunger pangs.
Avoid extreme exercise – Its good to be physically active during fast but don't go over board with activities that can drain and affect your physical health.
Is fasting for everyone?
Fasting is not for everyone. Although, fasting is considered safe for most people. However, it is best to consult your doctor before fasting if you belong to the following groups:
A medical condition such as diabetes or heart disease
Women who are pregnant, breastfeeding, or trying to conceive
If you are underweight or at the risk of being underweight
People with problems such as blood sugar regulation, low blood pressure
Those who are taking prescription medications
Older adults
Please consult your doctor if you are not sure you are fit enough to fast.
Types of fasting
Partial Fast: In a partial fast, you eat and drink in moderate quantities at a specific time of the day and in some cases abstain from certain foods. The duration can vary from a few hours to several years, and it can be customized to fit your needs. For instance,
only eating every 12 or 24 hours.
Eat only once a day for a week.
For 21 days or 3 years, eat only fruits and vegetables.
Water Fast This is sometimes called a liquid fast. You must drink water and do not eat. An example would be:
Three, Seven, or Twenty One Day Water Fast.
A 40 Day Water Fast.
Absolute Fast: Also known as a complete fast. You cannot drink any water or eat anything. It can only last for about one to three days since no human can survive for more than three days without water.
How to break a fast
When you break a fast, you are reintroducing food to your body.
When you fast for an extended period of time, your digestive organs need more time to reactivate before they function normally.
It is advisable to gradually introduce small amounts of soft foods like yogurt, soup, fresh fruit, and cooked vegetables.
If your fast lasts longer than a few days, you should continue with juices for a day or more before gradually introducing more substantial foods like yogurt, soup, and fruit.
Whenever you introduce a new food, make sure you chew it well, introduce it in small quantities, and stop eating as soon as you feel full.
You may also like to read this article on daniel fast. Stay blessed.