Prayer for Tests Taking: Every new level is often preceded by a qualifying assessment to attain. If you have any such tests ahead of you. This prayer is for you.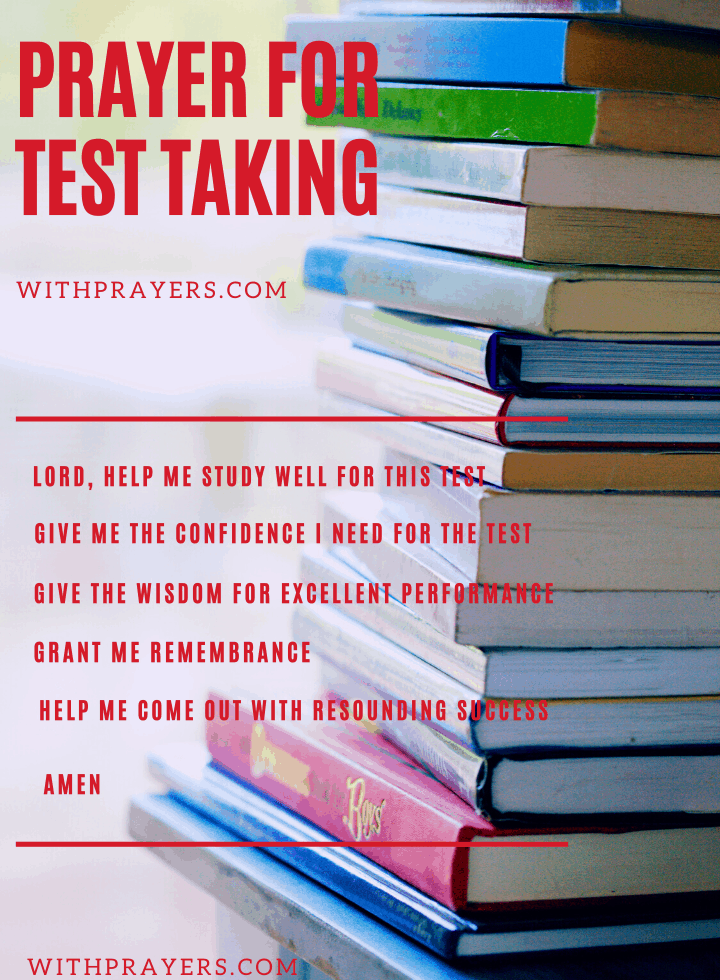 Tests enable practical application of ability or knowledge. Approaching them with this kind of consciousness would enhance a better mental and emotional attitude. Tests should not be considered as cruelty or oppression. We face them in different forms every time. It's just that they may not take formal forms.
Prayer for Tests Taking
Thanksgiving: Lord, I give You glory for life, and for the privilege to take steps towards progress and the next phase of my life.
Help me study: I commit myself to you, as I embark on the tests ahead, give me the dedication and focus I need to study well.
Confidence for the Test: Grant me the confidence to face it through without fear in Jesus' name. Take away any form of anxiety from me. Give me the spirit of power, boldness, and sound mind and help me remember all that I have studied for this exam.
Wisdom for Excellent Performance: Holy Spirit, I seek the wisdom to perform better than my personal knowledge level in Jesus' name. Give me the utterance and skills to meet all the requirements necessary for approval in all the tests I do in Jesus' name.
Guide my reasoning process and fill my mind with the ideas I need to know so I can come out with outstanding success.
"If any of you lack wisdom, let him ask of God, that giveth to all men liberally, and upbraideth not; and it shall be given him" (James 1:5).
Grant me, remembrance: Lord, keep my thoughts clear so that I can give precise answers to each question and help me remember everything that I have studied for this examination.
John 14:26 But the Comforter, which is the Holy Ghost, whom the Father will send in my name, he shall teach you all things, and bring all things to your remembrance, whatsoever I have said unto you.
Appreciation: Thank you, Lord, because my mind is at peace. I know you are with me to guide and assist me. Amen.
Say these declarations loud and clear believing God has done it:
I declare that I will be the head only and not the tail
I receive the spirit of power, love and a sound mind
I declare that God will do exceedingly, abundantly above all that I ask or think.
I declare that I am successful. Amen
SUGGESTED BIBLE VERSES