Prayer for the World: The world is full of messages about God, expressed through His creation but satan has polluted the world by sowing his own people as evil seeds to poison God's creation. He needs to be challenged and stopped.
Psalm 24:1 The earth is the Lord's, and the fulness thereof; the world, and they that dwell therein.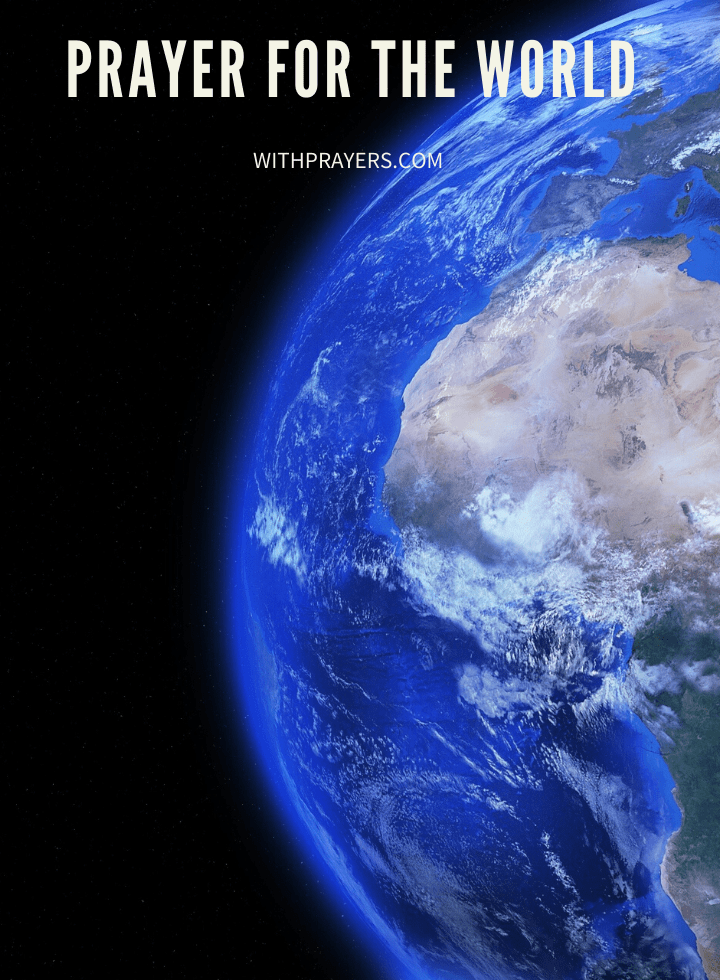 Prayer for the World
Thanksgiving: Our loving and righteous father, our fortress in the time of war, our help in time of need, our shelter in the time of storm, our rock in a weary land , our comfort in sorrow. We thank you!. We thank You, Lord, for the world you created, thank you for the world you love, thank you, lord. Be magnified in Jesus' name.
Let your spirit move: Lord listen to the cries of the people you love and who are called by your name. Let your spirit move over the world, and give life to every dying soul, give life to our dying world, breathe life into every situation, lead unto your light.
[su_box title="Isaiah 44:3" box_color="#711f01″ title_color="#ffffff" radius="50″]
For I will pour out water on the thirsty land And streams on the dry ground; I will pour out My Spirit on your offspring And My blessing on your descendants;
[/su_box]
Lord, let your spirit move and cleanse our land!.
Forgive us and Heal our land: Lord we are sorry for all the sins we have committed, we know we've turned around, we've gone astray, we've despised love for us, we turned our back on your supremacy. Lord we humbly repent. Forgive us and heal our land.
[su_box title="2 Chronicles 7:14 " box_color="#092a49″ title_color="#ffffff" radius="50″] If my people, which are called by my name, shall humble themselves, and pray, and seek my face, and turn from their wicked ways; then will I hear from heaven, and will forgive their sin, and will heal their land. [/su_box]
We need you – Lord, the world you love so much needs you desperately. There is so much going on in the world right now, we need your intervention. What's going on right now is beyond us, Lord, it's beyond us! The world has been polluted by the evil one and his seeds. Rid the world of them and let your light swallow their darkness in Jesus name.
Help our leaders: Lead and direct our leaders, help them to lead with humility and love, help them to establish just laws, give them the servant leader heart – give them listening ears, give them foresight and help them to be committed to the growth of people.
Have Mercy – Lord, we are faced with so many uncertainties, hate, sickness, wars, political problems, social problems, economic problems, and much more. Be our strength, our health, our joy, our hope, be everything to us oh lord. Life creator, let us know your tender mercy. Lord, please don't rebuke us in your anger. Let your mercy speak for us and let your blood speak for us.
[su_box title="
Heb 12:24
" box_color="#008080″ title_color="#ffffff" radius="50″] And to Jesus the mediator of the new covenant, and to the blood of sprinkling, that speaketh better things than that of Abel. [/su_box]
[su_box title="Psalm 6:1 " box_color="#21759b" title_color="#ffffff" radius="50″]O Lord, rebuke me not in thine anger, neither chasten me in thy hot displeasure. [/su_box]
A Peaceful World: Prince of Peace, let Your peace permeate every corner of the world in Jesus name. Let peace reign where there had been unrest in Jesus' name. Lord, let the world come to a realization of Your person. Let it see who You are and fear You in Jesus' name.
[su_box title="
Psalm 34:18
" box_color="#505655″ title_color="#ffffff" radius="50″]"Peace I leave with you, My peace I give unto you: not as the world giveth, give I unto you. Let not your heart be troubled, neither let it be afraid" (
John 14:27
). [/su_box] [su_box title="
2 Thessalonians 3:16
" box_color="#725306″ title_color="#ffffff" radius="50″]"Now the Lord of peace Himself give you peace always by all means. The Lord be with you all". [/su_box]
Love: Father, fill the hearts of men and women with love for one another. May the Brotherhood of all Humanity flood the nations in Jesus name.
[su_box title="
Acts 17:26
" box_color="#203572″ title_color="#ffffff" radius="50″]"And hath made of one blood all nations of men for to dwell on all the face of the earth, and hath determined the times before appointed, and the bounds of their habitation". [/su_box]
Appreciation: Lord we admit we do not know how to pray but let your spirit make intercession for us with groaning that cannot be uttered. Thank You, Father, for answered prayers. In Jesus' name, I have prayed. Amen!
NOW DECLARE THESE POWERFUL WORDS OF PRAYERS FOR THE WORLD
Lord we declare that our world belongs to you oh mighty God
We proclaim you, Jesus are king over our land
We decree health on our land, we declare peace in our world.
And Lord, we crown you king! Amen
SUGGESTED BIBLE VERSES